Malta – The Hottest New Destination for Yacht Charters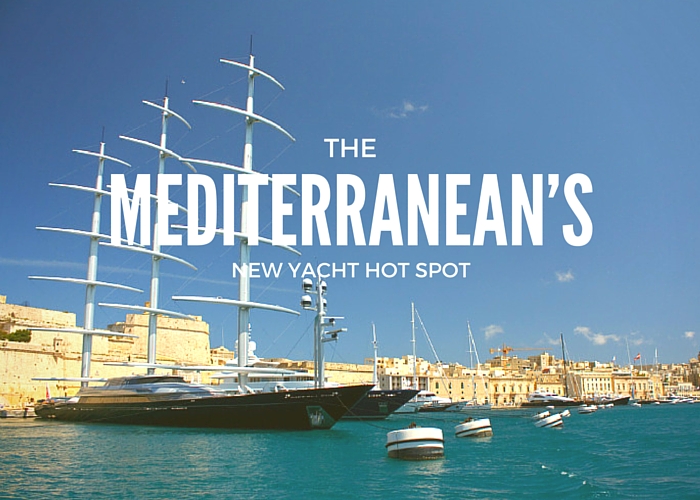 Discover Why Malta is Hot Right Now
For those of you who have never heard of Malta, you're about to hear all the amazing things this little island has to offer. Malta is the Mediterranean's best-kept secret. This destination is known for its warm climates, multitude of attractions, and historical monuments. With its beautiful waters and amazing architecture, it's easy to forget where you even are. This island is very unique because it can literally make you feel like you are in many places at once. While on a Malta yacht charter vacation, there are a variety of things for you to see and do, and you won't want to miss out on any of them.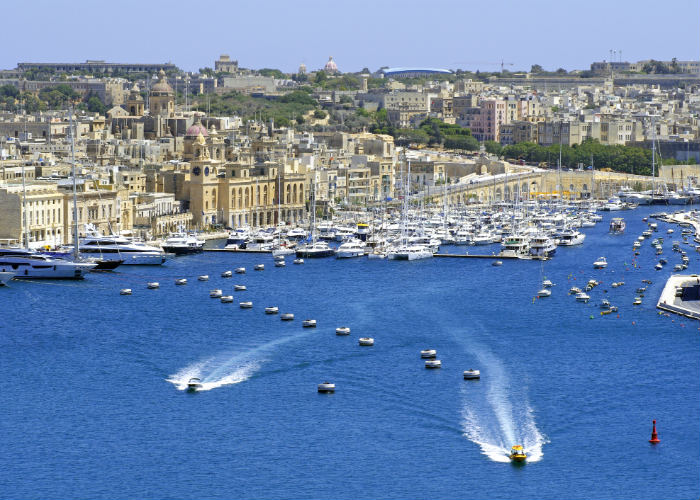 The history around Malta is completely breathtaking. Malta itself has been described as one big open museum because of all the amazing architecture around the area. You can enjoy the island's prehistory by retracing the footsteps of St. Paul, or even see where the Knights of St. John defended their religious beliefs. There are a variety of different churches and temples to see in this beautiful little area. You can head over to Hypogeum of Hal-Safileni which is a historic temple, or the Hagar Quim which is an ancient temple dating from 3200 BC. Want to see an amazing palace? Head over to the Casa Rocca Piccola and bask in the beautiful architecture of the palace. You can also go to the Valletta Waterfront chapel, the Mnajdra temple, or the National War museum for a quick history lesson. If you enjoy looking at temples and churches, you can also visit the Tarxien Temples, Megalithic Temples, Skorba Temple, or Rotunda of Mosta. As for the churches, you can check out Mellienha, Mdina, St. Pauls Bay, Rabat, Marsaskala, Mosta, Birgu, Gzira, Victoria, and many more.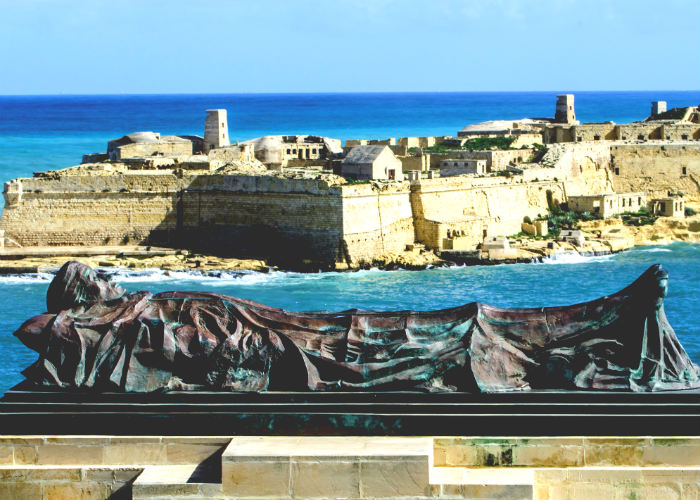 Another popular thing to do while chartering a luxury yacht in Malta is enjoying films and learning about the making of films and fine arts. You can visit the Manoel Theatre for a show, or even go to Fort Rinella, which is a historical Film Studio. If you want to check out other types of museums, you can go to the National Museum of Fine Arts where you can learn all about the different types of fine arts. You can also visit the National Museum of Natural History, Malta Maritime Museum, or the National Museum of Archaeology.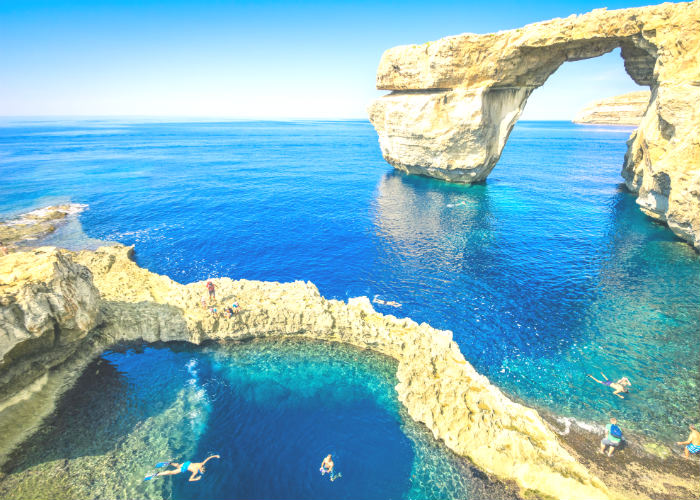 Of course the main reason we come to these beautiful little island by charter yacht is because of the amazing ocean destinations they have to offer. In Malta, there is a place called the Blue Grotto where yacht charter guests can experience the caves, great white sharks, amazing cliffs, great scuba diving, and breathtaking beaches. You can head over to the Blue Lagoon and experience the ultimate view of turquoise waters and breathtaking beaches. Some other popular beaches in Malta include Melliena Bay, Ghajn Tuffieha, and Golden Bay. If you're looking for a more intimate beach, you can head over to Gozo and check out Paradise Bay, Armier, and Pamla I-Hamra beaches.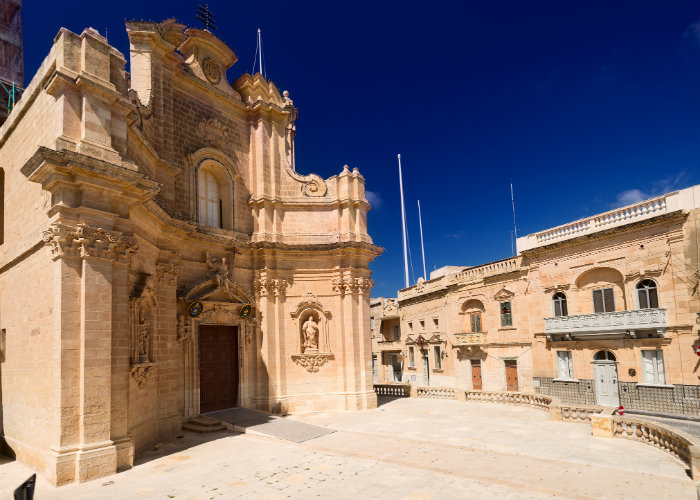 If architecture is what you seek, Malta has the most breathtaking sites. Check out the Saint Thomas Tower, which is a beautiful piece of architecture. You can also check out the Royal Opera House, Fort Manoel, Fort San Lucian, Verdala Palace, Fort Ricasoli, or the Ghallis Tower. If you want to walk around a little and see some gardens, check out San Anton Palace, Upper Barrakka Gardens, Malta Falcontry centre, or Lower Barrakka gardens.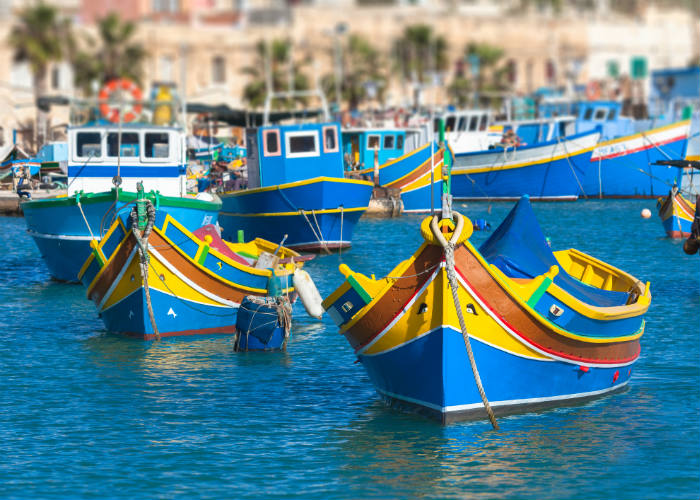 Malta has a lot of history and culture and visiting this little island will expose you to all of it. To start off, Malta has their own music, known as Ghana. Ghana is a traditional Maltese music that combines folk guitar music and men taking turns arguing. It's very interesting to listen to and learning how to perform is actually very difficult. The lyrics of Ghana music are actually improvised and it's more of a friendly challenge between men as they debate a topic. Think of it as a musical debate, if you will. Another great part of Malta's culture is their cuisine. While onboard your charter yacht, you can ask your chef to create a special Maltese cuisine for you if you wish. Maltese cuisine usually contains strong Sicilian and English influences.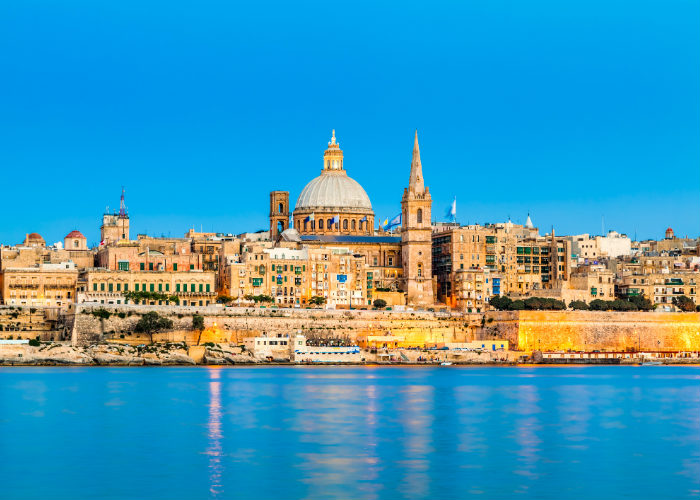 While enjoying your yacht charter vacation in Malta, there is so much to do, but there are a few things you cannot skip out on when visiting this little island. First, you must simply wander the streets of Valletta. This beautiful area will leave you speechless. Make sure you stop at St. Johns Co-Cathedral and the Grand Masters Palace. You also have to wander the streets of Mdina, also known as the Silent City. This will be an exploration you do not want to miss out on. You must also see at least one of the many prehistoric sites located on Malta. While on your charter yacht, you have to dive into the clear azure waters of the Blue Hole, and take a nice swim. Lastly, you must visit Gozo, even if it is just to lie out on the beach or take a few pictures.